About Us
HRD Aero Systems has been delivering durable and efficient aircraft safety equipment for over three decades, making us your go-to aerospace manufacturing company in California.
Dedicated Aerospace Industry Leader For Your Organization
HRD Aero Systems is an FAA Repair Station that has been providing world-class service for over thirty-three years. Corporate flight departments, maintenance and modification facilities, OEMs, owner-flown aircraft and parts brokers have all taken advantage of HRD's "One-Stop Shopping" services. This unique concept allows us to provide quick solutions to all of your safety equipment needs.
HRD Aero Systems employs over one hundred highly trained, dedicated employees. We have offices located in Kuala Lumpur, Malaysia, Houston, Texas and Valencia, California (corporate office). HRD has international representation to respond to any need, anywhere.
We are HRD Aero Systems, Inc., which is the industry leader and a growing company. We are FAA, JAA and Airline approved, dedicated to the overhaul of aircraft fire extinguishers (engine, cargo, APU and portable units), oxygen equipment (cylinders and regulators), and survival equipment (slides, rafts and floats). HRD also holds over 250 PMA sub-assembly components for servicing fire extinguishers. Our 70,000 square foot facility is state of the art, allowing us to be the ultimate source in the repair and sales of your aircraft safety equipment.
HRD Aero Systems, Inc. would like the opportunity to offer our services to your company. We currently provide 3 to 5 day turnaround for routine service and 24-hour turnaround for AOG or other unscheduled maintenance requirements you may encounter. With over 3,000 spare part fire extinguishers and 1,000 oxygen bottles in stock in OHC Zero-Time condition, we can exchange or sell these units to you outright for same-day shipments, in most cases.
Operators are no longer at the mercy of a large corporation that will serve them at its own convenience. Rather, HRD is a small privately-owned business operating with a lower overhead, which allows us to conscientiously support the budget and demanding schedule of your operation.
Here at HRD, we have a genuine interest in your needs. If we may be of service to your company or if you have any further questions regarding our service, please contact us at any time. We would like to make a recommendation that HRD and your organization form a partnership to become your safety equipment provider.
TOM SALAMONE – PRESIDENT/CEO
Our Mission
We're on board with you. A secure partner you can trust.
Our Vision
To be the #1 Aircraft Safety-related equipment service provider in the US by increasing revenue from $30mil to $50 mil by 2026.
Our Values
Professionalism
Teamwork
Integrity
Be the Best/Continuous Improvement
Customer Experience
Our Purpose
Servicing safety products with precious lives in mind.
Supporting the Community
HRD Aero Systems is about more than high-quality manufacturing — we're also committed to helping those around us by giving back to the community. We frequently support local nonprofit organizations with charitable donations to help make a difference in the world.
In 2018, we donated $935 to the Orbis Flying Eye Hospital, a teaching hospital dedicated to ending avoidable blindness. Our donation helped fund the organization's sight-saving programs, which train local doctors and nurses to serve in less fortunate countries.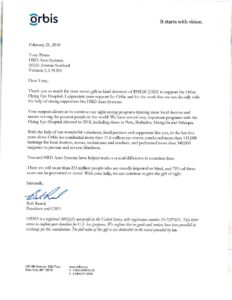 Choose HRD Aero Systems as Your Go-To Aerospace Supplier
If you're looking for an aerospace manufacturing company in Texas that cares, choose HRD Aero Systems. We've spent over 35 years providing customers from all aviation industries with affordable, high-quality aircraft safety components they can trust.
Contact us for more information on our products today!