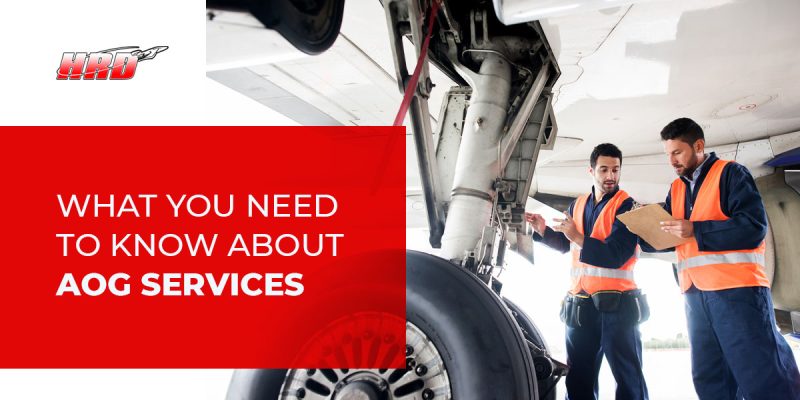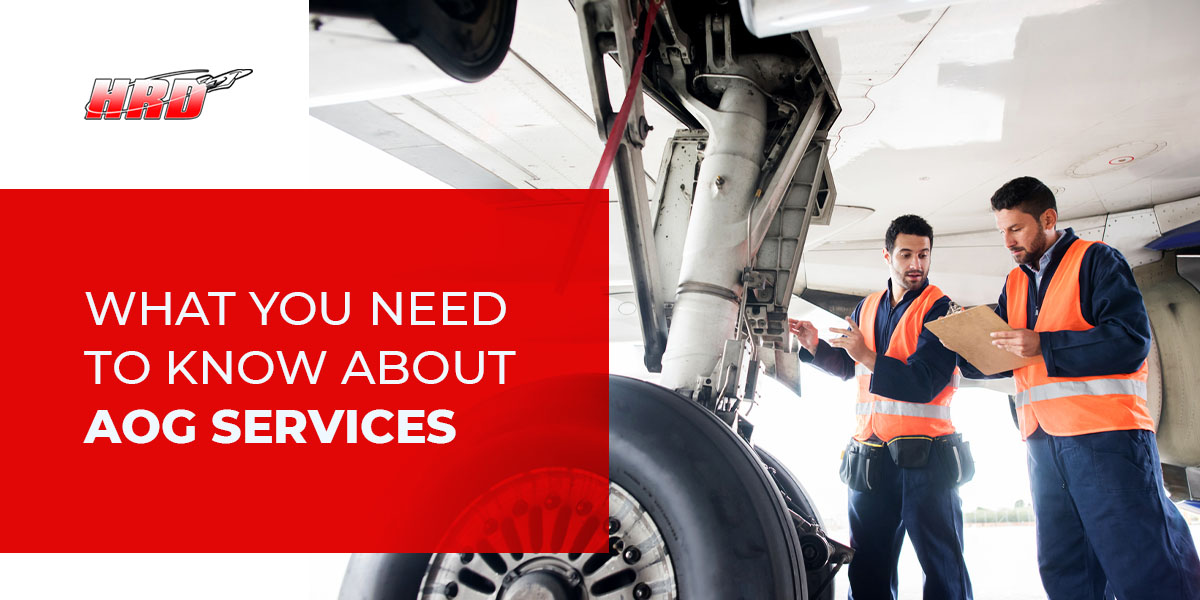 Aircraft on ground (AOG) services help aircraft owners and operators return to flight schedules when a repair or mandatory inspection grounds an aircraft. AOG service providers conduct emergency inspections and aircraft repairs when an aircraft is unsafe for flight.
A private or commercial owner or operator may require AOG aircraft maintenance following a mechanical malfunction or during a routine inspection. They may also require AOG services when onboard emergency equipment requires repairs or replacements.
AOG service providers respond rapidly when an aircraft requires inspection and maintenance. Efficient response, part delivery, repair and inspection are crucial to returning an aircraft to its regular flight schedule.
Trusting the right AOG service company can help you reduce aircraft downtime and keep your aircraft in flight when necessary. The best AOG servicers offer rapid response, trained technicians and fast parts and equipment delivery to ensure aircraft comply with Federal Aviation Administration (FAA) standards.
What Does AOG Stand for in Aviation?
The AOG acronym stands for aircraft on ground. This term indicates when an aircraft fails to operate. An aircraft failure to operate typically occurs due to weather or technical complications. An AOG is an unpredicted event and can happen at any time, causing potential flight delays or cancelations.
An AOG is grounded and cannot resume rotation until it's approved for flight. An aircraft can become an AOG for the following reasons:
Weather conditions
Scheduling errors
Mechanical errors
Mandatory inspections
Flights grounded because of weather or scheduling conflicts can resume flight when weather clears or scheduling teams resolve errors. However, an AOG grounded due to mechanical errors requires repair, inspection and approval before it can take flight. AOGs also require approval before resuming flight if they are on the ground for a mandatory inspection.
Importance of AOG Services
Proper AOG services are essential when mechanical complications occur, an aircraft is due for inspection or emergency equipment requires repair or replacement. The Federal Aviation Administration enforces aircraft safety guidelines and requires proper servicing before a flight can resume operations. Scheduling the right services for a grounded aircraft helps it return to flight in a timely manner. Proper repair and inspection supports the following:
Safe aircraft operation
Crew and passenger safety
Minimal aircraft downtime
Airworthiness
The FAA issues airworthiness directives (ADs) to ensure aircraft owners and operators correct mechanical complications and unsafe conditions. Remaining in compliance with these directives keeps crews and passengers safer during flights.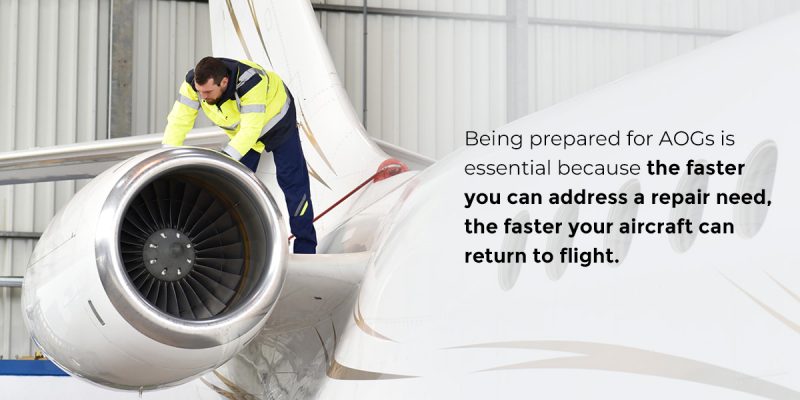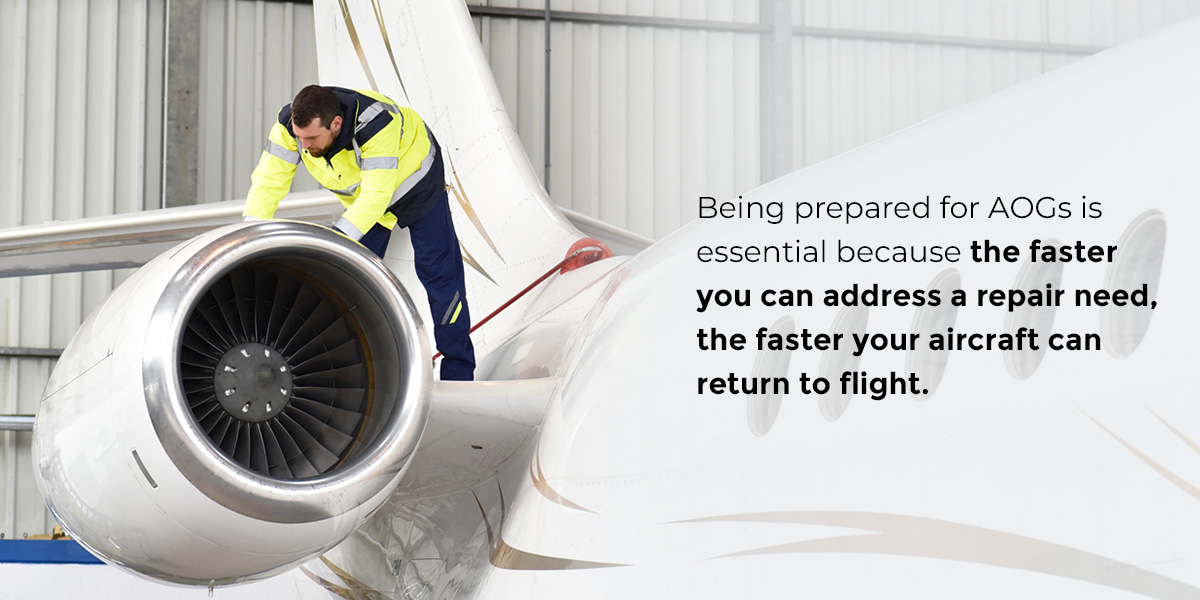 What Are AOG Services?
Being prepared for AOGs is essential because the faster you can address a repair need, the faster your aircraft can return to flight. Having spare parts and safety equipment on hand and understanding how to request AOG services is essential. Aircraft owners and operators schedule AOG services as urgent requests. Requesting AOG services as soon as possible enables servicers to complete repairs quickly and minimize aircraft downtime. An AOG may require the following actions and services:
Ordering and shipping aircraft parts
Emergency equipment repair or replacement
Completing customs paperwork for items shipped internationally
Recovery planning
Damage survey
Emergency maintenance
On-site technical assistance
Aircraft parts installment
Completing return-to-service documentation
Completing airworthiness certificates
AOG Inspections
Aircraft operators and owners must maintain a Continuous Airworthiness Maintenance Program (CAMP) to remain in compliance with FAA guidelines. Corporate and private jet owners schedule the following inspections every six to eight months or 400 to 600 flight hours:
A aircraft inspections: An A aircraft inspection takes approximately 10 hours to complete. During this type of inspection, a technician checks an aircraft's hull and interior for corrosion, damage, missing parts and deformation. The technician also checks the aircraft's function, engine, emergency lights and parking brake accumulator pressure, and they lubricate the nose gear retract actuator.
B aircraft inspections: B checks often occur during A inspections to reduce aircraft downtime and implement efficient equipment usage. During a B inspection, technicians check aircraft alignment and landing gear spotlight torque. They also inspect the wheel well's hydraulic tubing condition to ensure the fluid is not leaking and there is no corrosion.
Failure to pass either of these inspections requires an aircraft owner to ground their aircraft immediately. Mechanical errors that cause AOGs are typically minor, but each of an aircraft's small components are essential to safe operation and flight.
Typical AOG Repairs
AOG repairs typically require one of the following common parts or equipment:
Fire extinguishers
Oxygen systems
Inflatables
Automated external defibrillators (AEDs)
AC and DC generators
Navigation lights
Transformer rectifiers
Starters
Generator control units
Power supply dimmer controls
Static inverters
Electric motors
Ventilation blowers
APU generators
Electric valves
Landing gear and landing gear motors
Wheel speed transducers
Power supplies
Battery chargers
DC converters
Cabin temperature controllers
An aircraft's onboard emergency equipment is crucial for safe flight, making it an important factor of AOG services. AOG repair technicians carefully inspect, repair and replace emergency equipment such as oxygen systems, fire extinguishers, AEDs and inflatables so each aircraft is equipped to handle emergencies.
Aircraft on Ground Procedures
AOG service providers thoroughly inspect an aircraft or its onboard emergency equipment to identify repair needs. They make necessary repairs and replacements and ensure the aircraft is safe for flight according to FAA regulations.
AOG inspections and repairs are considered emergencies, so servicing companies typically respond to them rapidly. This results in a shorter turn-around time than other types of aircraft services. Technicians performing AOG services must follow FAA guidelines to ensure the aircraft inspection and repairs remain in compliance with FAA regulations.
When AOG situations require replacement parts or equipment, fast delivery is crucial to getting the aircraft back in flight quickly. AOG service providers find the most efficient way to deliver equipment to an aircraft when it requires a replacement. Technicians may deliver equipment via a Next Flight Out service, but they can also personally escort parts from suppliers to an aircraft. If these options are not ideal, a technician may deliver a part using an air charter service.
What to Look for in an AOG Service Provider
Choosing the right AOG service provider is essential. When you need AOG support, you should search for a company that offers the following:
Trained technicians
Significant experience
Services that comply with FAA regulations
Rapid response times
International availability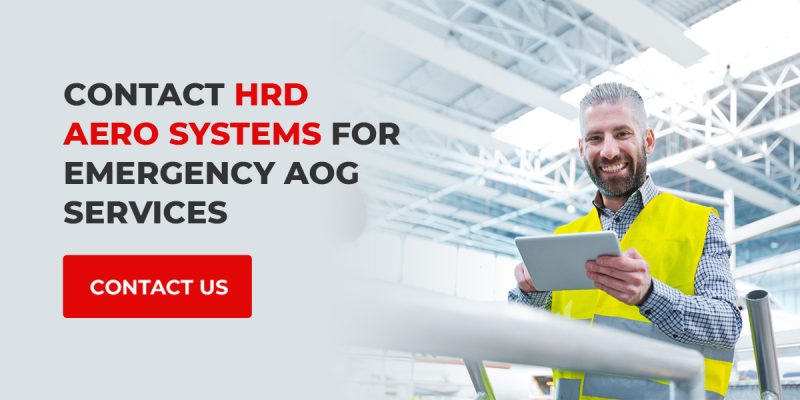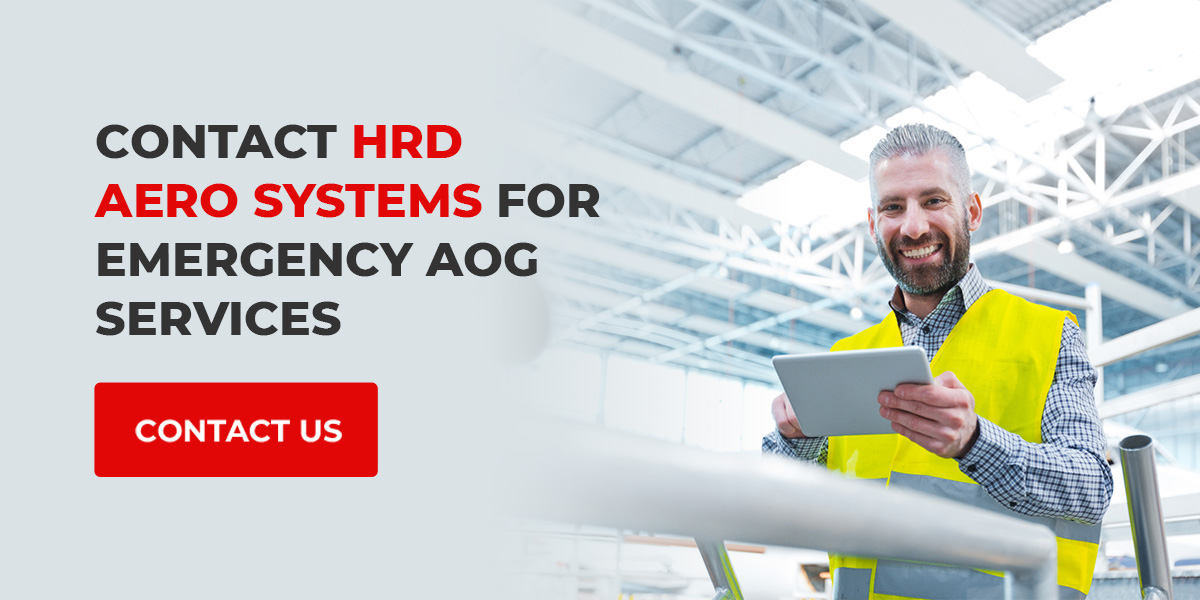 Contact HRD Aero Systems for Emergency AOG Services
As an FAA Part 145 repair station, we provide AOG services in compliance with FAA standards and regulations. HRD inspects and services aircraft emergency equipment to ensure safety and airworthiness, and we respond to these situations rapidly to help return aircraft to flight as soon as possible.
HRD technicians service emergency equipment such as fire extinguishers, oxygen systems, inflatables and AEDs to ensure your aircraft is equipped for emergencies. Our experience and state-of-the-art facility allows us to provide world-class aircraft emergency equipment repair services to corporate and private aircraft owners.
HRD Aero Systems provides emergency AOG services internationally to minimize aircraft downtime when emergency equipment requires inspections and repairs. Our staff is highly trained to comply with FAA regulations, and we carry Parts Manufacturer Approval (PMA) replacement parts that meet original equipment manufacturer (OEM) specifications.
Contact HRD to learn more about our AOG services and how we can help your emergency on-flight equipment remain in compliance with FAA guidelines for safe flight.