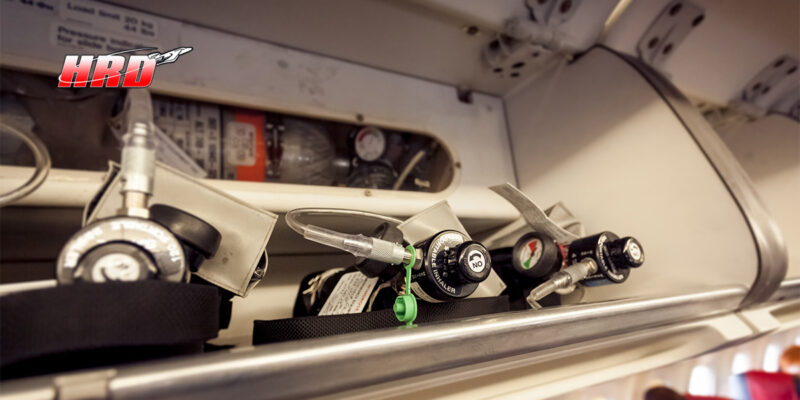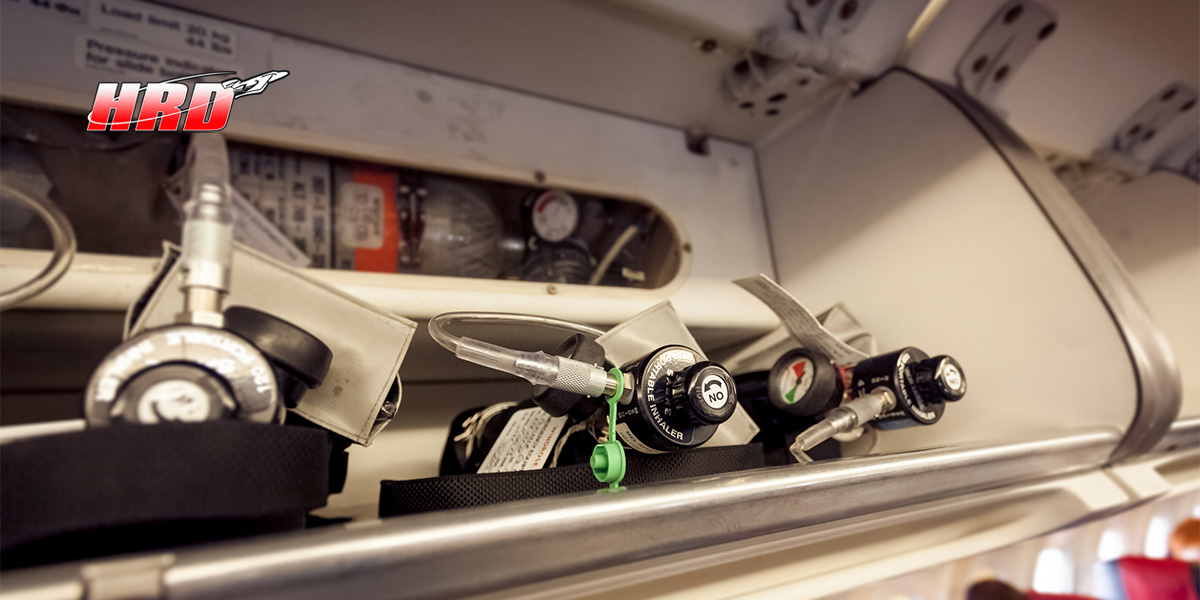 How do you know when you should schedule routine aircraft safety equipment service? This information should be easy enough to find in your owner's manual, but it can be hard to locate and make sense of the many different dates you need to know.
We created this guide to give you and your crew members a better understanding of critical dates and service intervals for all the safety equipment on your vessel.
Table of Contents
MRO Equipment
MRO stands for maintenance, repair and overhaul. Any item used in operational processes that does not affect the result is an MRO item — therefore, safety devices and personal protective equipment fall into this category.
Here's a breakdown of MRO components.
Maintenance: The process of continually preserving a system or part's good condition can take one of four forms depending on the situation — preventive, risk-based, condition-based or corrective.
Repair: Fixing broken systems by replacing or mending damaged parts.
Overhaul: Thoroughly inspecting, cleaning and restoring your equipment to an acceptable performance standard.
While it's easy to overlook MRO, remember that it is an essential part of doing business in many industries. It's especially crucial in aviation because it ensures all your safety equipment works when needed.
MRO is most successful when you consistently follow maintenance and servicing schedules.
Service Intervals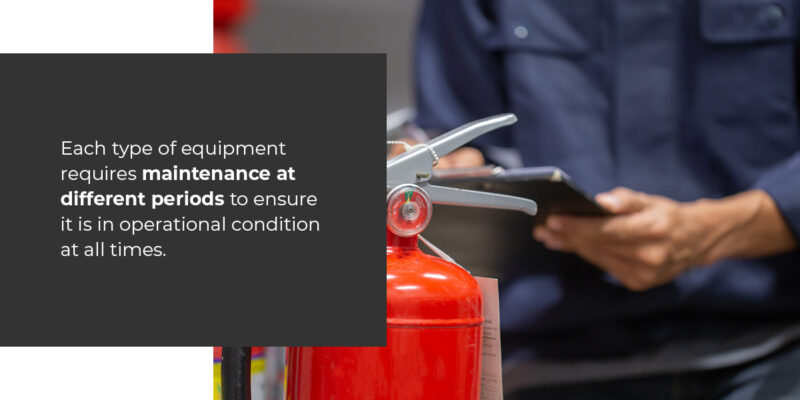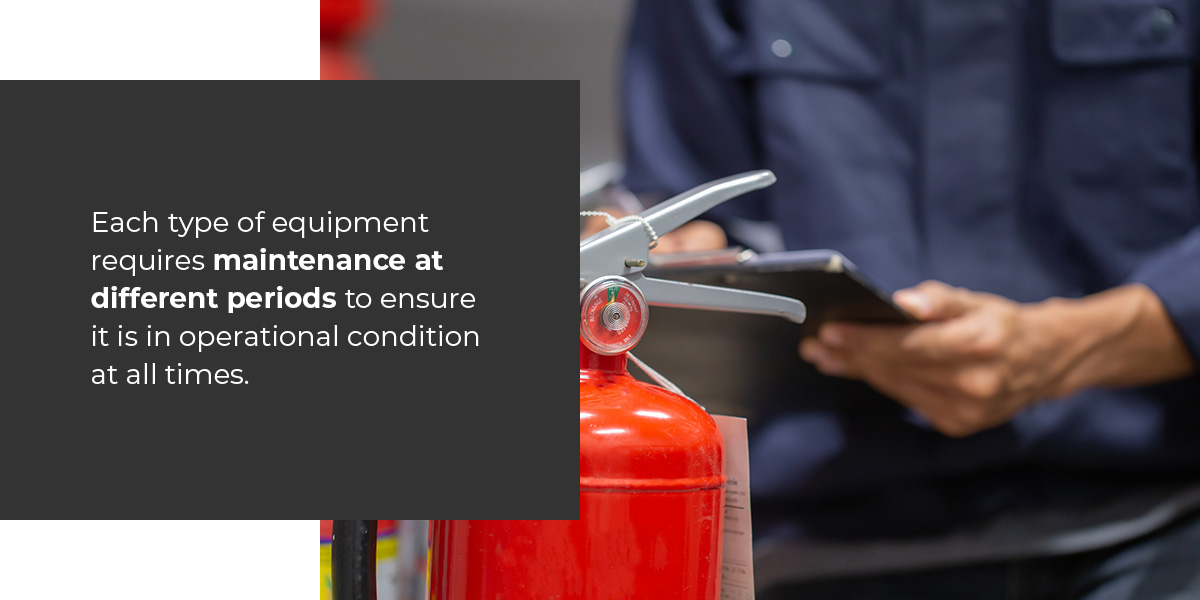 Routine safety equipment services and inspections are critical for keeping your equipment in compliance with Federal Aviation Administration airworthiness regulations.
Each type of equipment requires maintenance at different periods to ensure it is in operational condition at all times. To determine the right time to service each article, you need to pay attention to two requirements — the Department of Transportation ratings and the service requirements listed in the item's component maintenance manual.
Aviation Fire Extinguishers
Aircraft fire extinguisher service intervals vary. Portable extinguishers are subject to original equipment manufacturer-recommended service, but most others have set intervals according to DOT regulations.
The DOT ratings and test periods for each type of fire extinguisher equipment are as follows.
Engine, APU and cargo bottles: These require DOT rating 4D and 4DS servicing every five years.
In-cabin portable extinguishers: Portable aircraft fire extinguisher system service is typically necessary every 12 years, but this interval can vary depending on the OEM.
In addition to the more thorough DOT-required inspection and service, you should also visually inspect your fire extinguishing equipment at least once per month. Look for cracks, corrosion, dents or leakage in the cylinder's surface, and check the pressure gauge to ensure the internal pressure is within the operating range.
The CMM service requirements for fire extinguishers vary depending on OEM and often involve burst disc inspection.
Aviation Oxygen Systems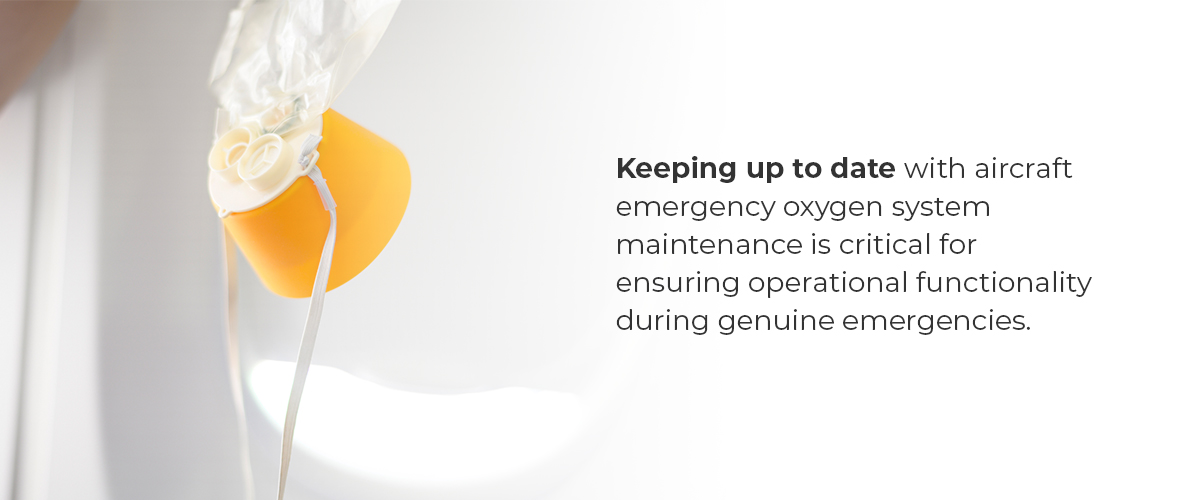 Keeping up to date with aircraft emergency oxygen system maintenance is critical for ensuring operational functionality during genuine emergencies.
While some OEMs recommend different intervals, typical DOT ratings for aircraft oxygen systems service include the following.
DOT 3AA1800 Steel Cylinders: Re-test required every five years
DOT 3HT1850 Thin Wall Cylinders: Re-test required every three years
DOT SP8162-1850: Re-test required every five years
Other special permits/DOT Ratings: Typical re-test requirement is every five years
CMM service requirements/Overhaul intervals for oxygen systems are as follows.
Oxygen Cylinder & Regulator Assemblies: These can vary depending on equipment condition and manufacturer recommendations.
Crew Masks: Manufacturers recommend a six-year Overhaul on Oxygen Masks, but require an Overhaul every twelve years.
Stowage boxes: Stowage Boxes typically require an overhaul every six years.
Aviation Survival Equipment
Survival equipment is a broad category that includes inflatable emergency components such as:
Inflatable emergency escape slides
Life rafts
Helicopter floats
Life vests
The DOT Special Permits require servicing every three to five years, depending on the cylinder part number. Some 3HT cylinders need service every three years.
CMM service requirements for aviation survival equipment also depend on OEM recommendations. You might see required service intervals ranging from one to five years — be sure to consult your OEM manual for more specific information.
Verifying Stamped or Labeled Dates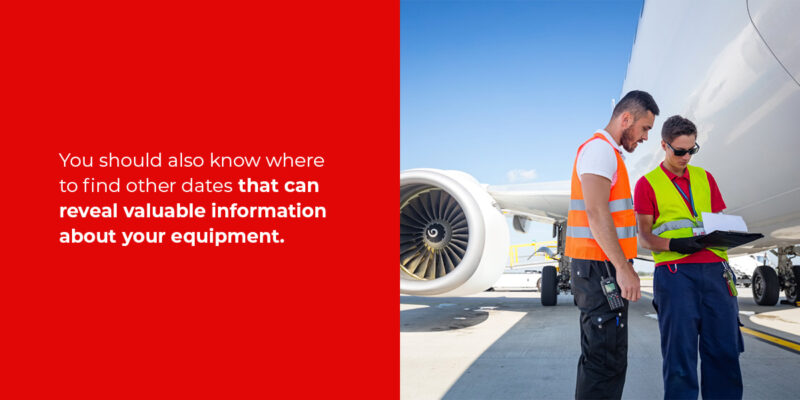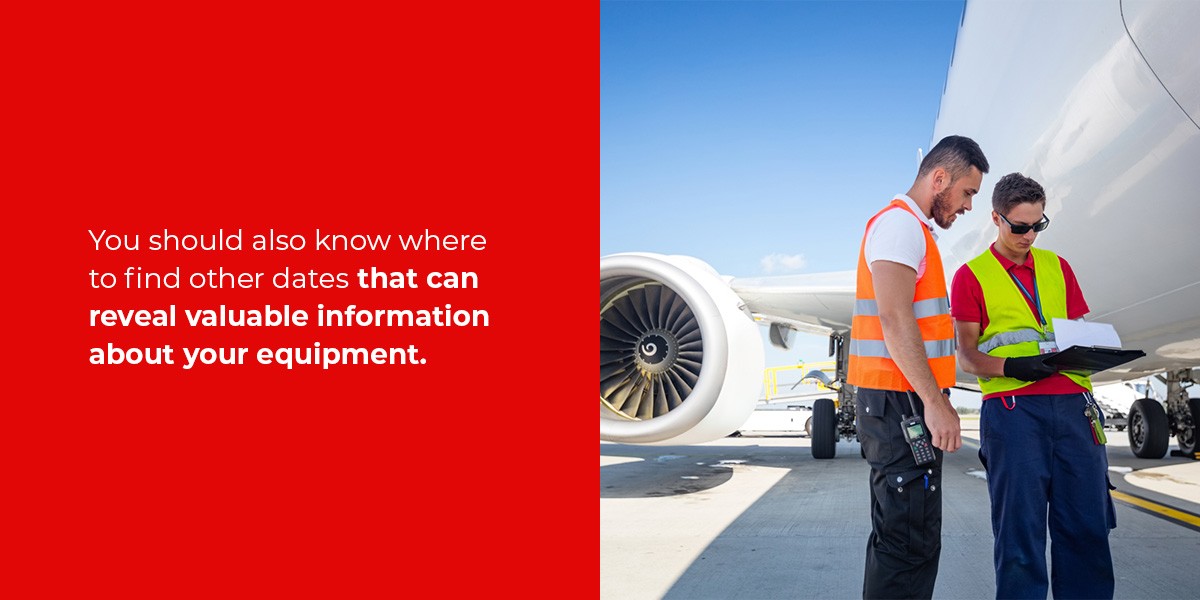 Regularly replace safety equipment to ensure reliable operation in emergencies.
In addition to knowing the required service intervals for maintaining safety equipment's functionality, you should also know where to find other dates that can reveal valuable information about your equipment. These include the manufacture date, DOT rating, expiration date and hydrostatic re-test date.
Knowing where to find these dates can help you comply with FAA regulations.
Date of Manufacture
The date of manufacture is crucial for determining how long a component should stay in service. Combined with the expiration date, the DOM can tell you how long you can expect an item to reliably operate. If you can't find or read the expiration date, you can use the DOM to determine whether the product has reached the end of its useful life or if you can still get some use out of it.
The DOM appears in different places on each type of aviation safety equipment. You can find the DOM for aviation fire extinguishers in the following locations.
Engine, APU and cargo bottles: Stamped on mounting lugs and data plates
In-cabin portables: Stamped on the cylinder's neck or printed on the data label
For aircraft oxygen systems, you'll find the DOM in these locations.
Stowage box: Stamped on the box nameplate
You can find the manufacture date in different places on each survival device.
Rafts: DOM is on the valise or carrying case and the maintenance release report.
Floats: You can find the DOM printed on the float cover.
DOT Rating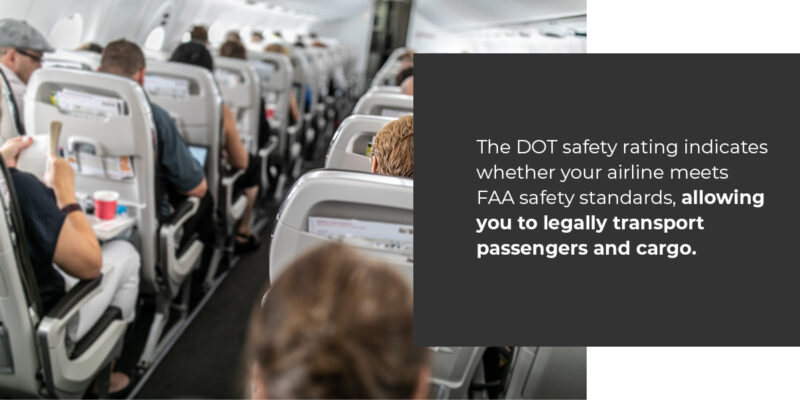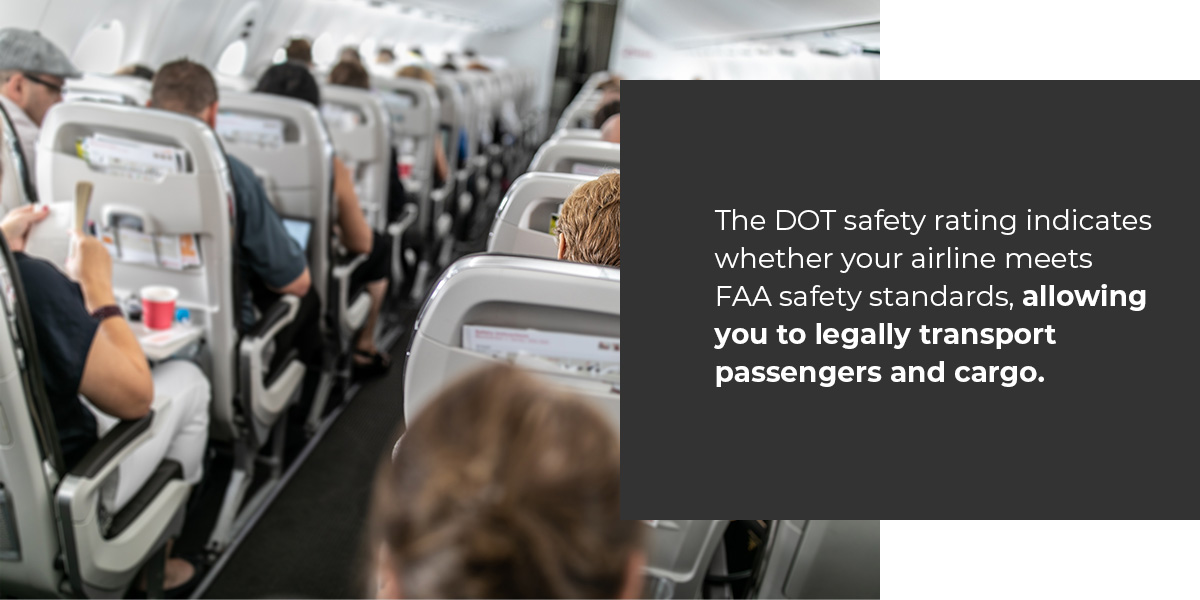 The DOT safety rating indicates whether your airline meets FAA safety standards, allowing you to legally transport passengers and cargo. These numbers will begin with the capital letters DOT, regardless of which safety device you check.
You can find service intervals for fire extinguishers in the following locations.
Engine, APU and cargo bottles: Stamped on the mounting lug
In-cabin portables: On the data label, or stamped on the cylinder neck.
For oxygen systems, DOT ratings are typically on the cylinder neck or printed on the equipment labels.
DOT ratings only apply to survival equipment with cylinders after cylinder installation — you can find this information on the data label. However, you likely won't be able to see the DOT rating on slides or rafts after packing them away.
Serial Numbers
Serial numbers are to safety equipment like fingerprints are to humans — they identify specific items within a range of products. Serial numbers play a crucial role in safety equipment servicing because they allow repair professionals to quickly determine which parts they need to use for repairs and whether the product's warranty is still active.
Additionally, knowing a product's serial number can help you report defects to the manufacturers if you or your crew members discover any during routine inspections.
You can find the serial numbers for fire extinguishers in the following locations.
Engine, APU and cargo bottles: Near the DOT rating on the mounting lug
In-cabin portable extinguishers: Printed on the data label or the cylinder neck
Look for serial numbers for oxygen systems in the following places.
Scott or Avox systems released after 2012: You can find the ALT number or the third-party serial number assigned by the manufacturer on the printed label.
Masks: The serial number is on the mask's label.
Stowage box: The serial number is on the box nameplate.
The serial number location varies depending on each type of survival equipment. Here's where you can find it on aviation inflatables.
Life rafts: The serial number is on the valise or carrying case and on the maintenance release record.
Floats: You'll find the serial number on the cover of the float.
Hydrostatic Re-Test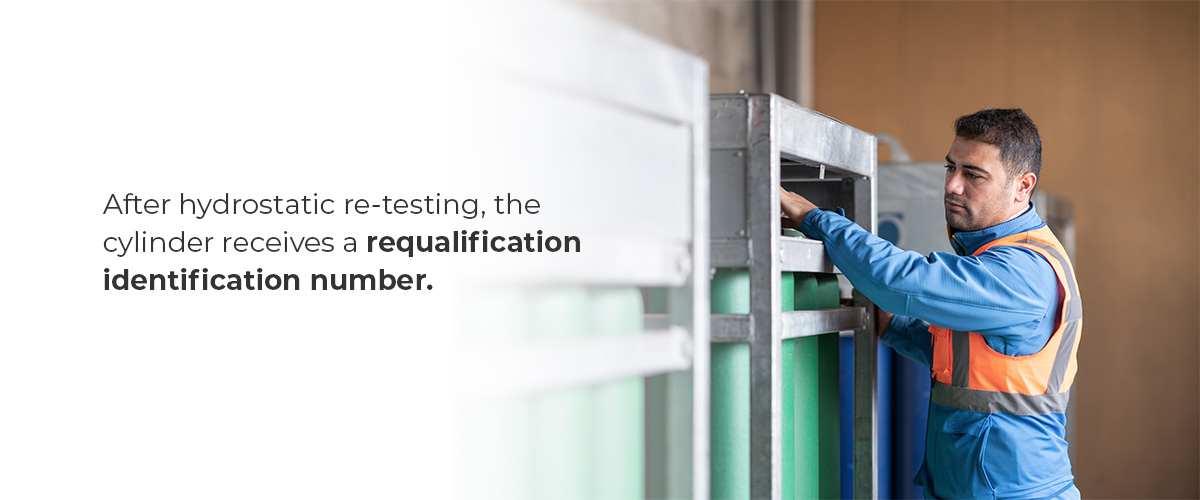 After hydrostatic re-testing, the cylinder receives a requalification identification number, which the Department of Transportation assigns to a cylinder requalification location. Read this number clockwise, beginning with the letter and following the numbers around.
You can find this information in the following locations.
Firex: Look for the RIN Facility Number stamped on the bottle, which you should read Month — Facility — Year. A sticker is often a courtesy added to the bottle.
Oxygen systems: Some 3AA bottles have a star stamp, which indicates that the cylinder meets the requirements for a 10-year re-test interval instead of the standard five-year interval. 3HT steel cylinders require testing every three years and have a 24-year service life. On composite cylinders, you'll find the RIN on an epoxied sticker. Note that you cannot charge any cylinder after the hydrostatic expiration date.
Survival equipment: If you have composite cylinders, you'll have an epoxied sticker displaying the RIN on the cylinder. Check the maintenance record to find the re-test interval for slide assemblies.
RIN Examples:
Expiration Dates
The expiration dates on safety equipment indicate when the equipment's quality and reliability become questionable. For most aircraft safety equipment, you'll need to replace the component once it reaches its expiration date.
However, some equipment can remain in use for a specified period after the expiration date. Consult the OEM instructions for guidance on your specific equipment.
Fire Extinguishers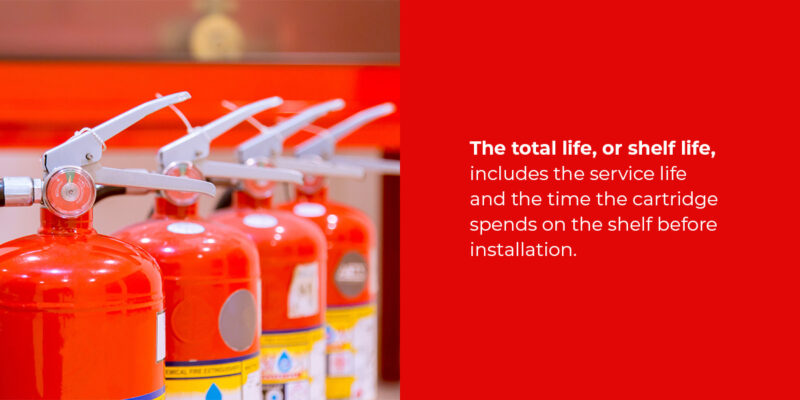 Fire extinguisher cartridges have two estimated life spans — the service life and the total life. The service life span refers to the amount of time between the date you first install the cartridge and the date it expires. The total life, or shelf life, includes the service life and the time the cartridge spends on the shelf before installation. Regarding expiration, look for the total life rather than the service life.
Depending on the OEM, the DOM and expiration date will be stamped or electro-etched on the cartridge, so you can easily reference it any time you need to.
Oxygen Systems
Pay attention to expiration dates for emergency oxygen systems to ensure your cylinders are at the correct pressure and are free of tiny cracks or surface defects.
Expiration dates for oxygen system cylinders vary depending on the model.
3AA: Unlimited life span
3HT: 24-year life span
SP8162-1850: 15-year life span
Note that these expiration dates typically don't appear on the cylinder.
For masks and hoses, the recommended replacement interval is every 12 years — this date is also usually not on the equipment, so you'll need to consult your manual or other OEM-provided documents to find it.
Survival Equipment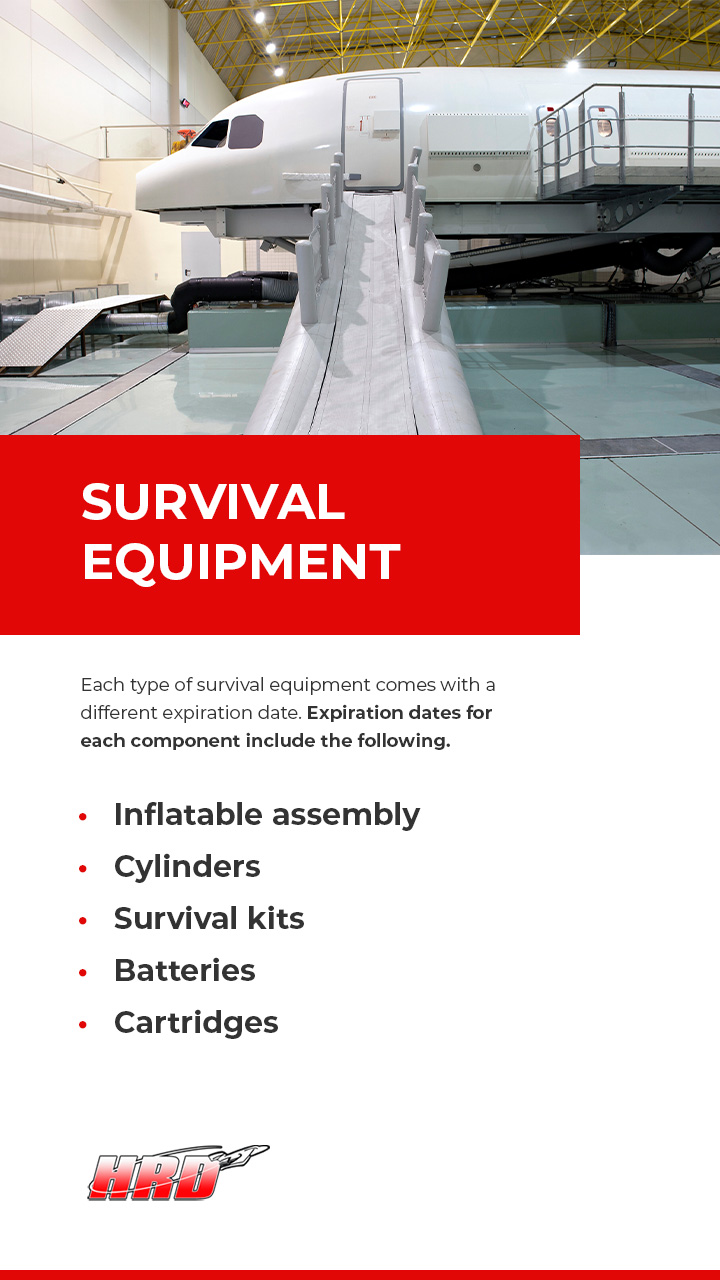 Each type of survival equipment comes with a different expiration date. Expiration dates for each component include the following.
Inflatable assembly: The usual OEM replacement recommendation is every 15 years with annual inspections. Floats generally have hard 15-year expiration dates. Note that expiration dates are usually not on inflatable equipment.
Cylinders: DOT Special Permits normally set a hard 15-year expiration date for cylinders, which is customarily not on the bottle's data label.
Survival kits: The expiration date for survival kits varies between OEMs, but it's usually between five to 10 years. You can find this information in large print on the kit's manufacturing label.
Cap Times
According to the OEM, a component's cap time is the set amount of time you have to complete leak verification after overhaul. This verification should happen before the final inspection to improve the device's chances of passing.
OEMs rarely require cap times for in-cabin portable fire extinguishers — however, a reliable estimate is seven days.
For portable Oxygen assemblies, the minimum cap time is 24 hours, but it can also be 48 hours with a maximum of 72 hours.
Additionally, overhauled oxygen masks must be in sealed bags. Users should not open these bags until they are already in the aircraft.
Here are the cap times for inflatable survival equipment:
Reservoirs: The general required stabilization time is 12 hours, but it can also be up to five days in some cases.
Slides and rafts: The minimum air retention test is four hours per side. Air Cruisers specifically require 12 hours of oven time and 12 hours of cooling time.
8130 Dates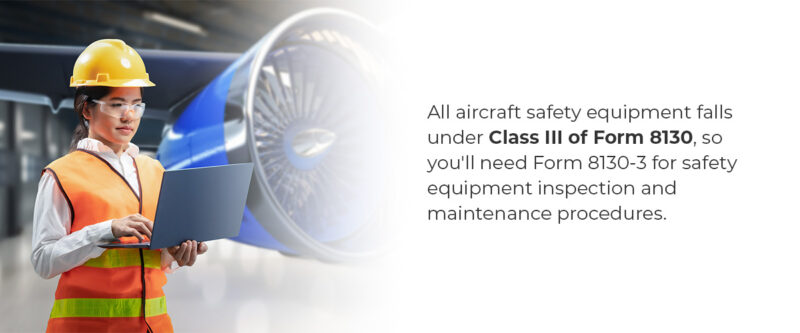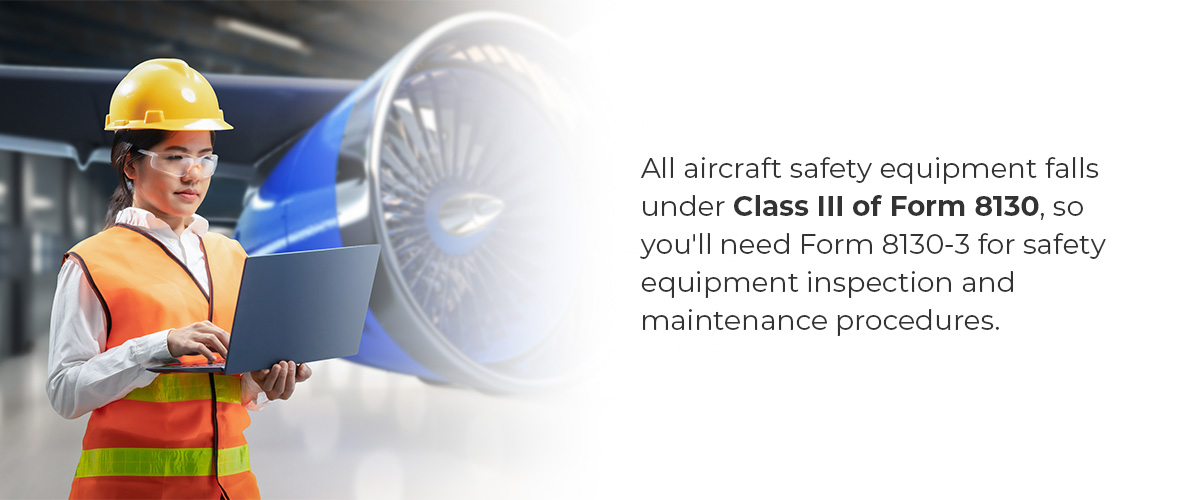 The FAA-required Form 8130 verifies an aircraft's compliance with airworthiness standards and has two primary purposes:
Approving or certifying that new or used components meet airworthiness requirements
Approving or certifying that components may return to service after maintenance
All aircraft safety equipment falls under Class III of Form 8130, so you'll need Form 8130-3 for safety equipment inspection and maintenance procedures.
Note that Form 8130-3 is not for approving a product installation on a particular aircraft or aircraft part. However, it can be part of the approval process for domestic and international products and for identifying and tracing specific aviation products within the global system.
You can find a product's Use By date in Block 12 of Form 8130-3, which is the largest field on the form. One of two factors determines this date:
The component installed on the unit that requires service first
DOT hydrostatic re-test requirements
You may also request an earlier Use By date than the one specified on Form 8130-3 — this request will change the information and format you'll need to include in Block 12.
You can only obtain an original 8130-3 if the equipment in question is still in your possession, according to FAA regulations. If you need to make a correction or add or delete information after the article has shipped, you can only get a corrected 8130-3. This corrected form does not serve as a replacement for the original 8130-3 — therefore, you will need to retain both versions.
Additionally, per FAA regulations, you cannot sign off on Form 8130-3 before completing the article and presenting it to the final inspector. This inspection occurs after you check the equipment for leaks during the cap time.
Replacing Damaged or Expired Safety Equipment
During your inspections, you may find that some of your equipment is broken or expired. If this is the case, it's time to replace it.
When it comes time to purchase replacements, you have two choices — aftermarket or OEM parts.
PMA vs. OEM
OEM parts are original equipment components that come with your safety devices. Parts manufacturer approval are aftermarket parts — replacement components made by FAA-authorized companies separate from the OEM. While they're often identical to the original part, some PMA designs can differ slightly.
Some PMA suppliers can even enhance your equipment by creating custom solutions that match your crew's specific needs and operational requirements.
The FAA's rigorous standards for PMA parts ensure that the parts fully comply with airworthiness and quality standards. If you're buying from a dependable, FAA-certified parts supplier, PMA parts are a safe, high-quality alternative to OEM components.
Meet Aircraft Safety Equipment Service Intervals With HRD Aero Systems
At HRD Aero Systems, we strive to provide affordable, reliable repairs for aviation safety equipment, from fire extinguishers to evacuation slides. Whether you need to meet your aircraft life raft service intervals or have to replace expired components, we're here to help.
We provide repair and overhaul services for various fire extinguishers, emergency oxygen systems and inflatable survival equipment. We also carry a wide selection of FAA-certified PMA parts to replace damaged components on your aircraft.
Contact us online for more information about our repair services, or call us at 661-407-2772.
Need replacement parts? Search our site to see what we have in stock, or contact us so we can source it for you.